Red Carpet Rundown — 2015 Golden Globe Awards
The time has come for the 2015 Golden Globes! Hosted for the third — and final — year by Tina Fey & Any Poehler, it's bound to be a good time.
Compared to last week, this carpet brought much more color, more daring styles, and great conversation pieces!
There were so, so many hits this time around but oh man the misses REALLY missed.
Let's take a look!
Tina's outfit isn't my personal style, but she looks fabulous. The fit is great and it's a very unique outfit. I'm glad it's fitted at the top and gives her shape before poofing out. Tina looks great but is unfortunately overshadowed by Amy.
Amy looks incredible in her blue gown. The color pops and draws your eyes to her. It fits well and looks amazing. I can't get over the color! She kept it simple with the accessories and the hair.
Both ladies did a fantastic job with their first outfits of the evening!
Overall she kept her look simple witch is important. This dress exudes easy and casual and would not look right with lots of accessories, a big bag, and hair that was down.
This dress is... interesting. Maybe it's her pose.
Maybe it's the angle.
I like the color, it looks great on her.
But something about the bit by the inside of her elbows is confusing me. Is it supposed to be darker panels to enhance the waist? If so that's great but I think the dress should be tailored in a bit more if that's what it's supposed to be doing.
From this picture it looks as if the dress is just hanging there.
Holy diamonds! The diamond snake necklace is fierce!
I love that she paired it with a simple yellow gown. She looks stunning.
Nothing too busy.
Everything fits well.
She looks incredible.
I'd like this dress a significantly more if the top was different. It looks like the stretchy bit on those towely-fabric swimsuit cover ups.
I'm sorry but that top makes the dress look cheap.
Her hair doesn't help either. It doesn't look brushed, much less red carpet ready.
I'm not entirely who she is but she looks stunning.
The blue is fabulous, her hair looks great, and the fit is impeccable. She is letting the dress do all the talking and I could listen to it all day.
You go, girl!
Gina looks fantastic.
The fit is wonderful and she did it right.
Though simple, this outfit does not need any more accessories.
Another fantastic yellow gown!
It's very flattering on Leslie and her sideswiped ombre hair looks great with her gown.
I do think it could have been tailored a little shorter so it wouldn't bunch like it does at the bottom and instead sat beautifully on the carpet.
This look bores me.
Where's the color? The fun? Julia seems like she'd be a party so I'd expect a pop of color or pizazz somewhere!
I'm not a fan on the bust of this dress. The way the arch goes along underneath her bust makes her boobs look saggy.
The straight hair isn't doing it for me either.
This dress looks great on the carpet but it looks even better on the TV screen. She is the one who brought out the awards and escorting the hosts and winner(s) off the stage.
Other than that she looks incredible.
Oh goodness. Oh me oh my.
What?
This had the potential to be good. But putting a puffy skirt under a peplum style top? Bad idea.
This is adorable.
So age appropriate but still glam.
Great to see a child dressing her age — and designers designing for it!
I like the dress by itself.
The dark eye make up with the long, down, dark hair makes it look like Laura is prepon-ing to play Morticia Addams.
The pieces of this look individually are stunning. But when you put them all together it doesn't work for me.
Did she fall asleep in the limo on the way to the red carpet?
The crinkle in her dress looks like a wrinkle and the crown poof can double as some bed head.
I think the dress looks cheap and doesn't do her justice.
The bright side? The color looks good on her.
Fabulous!
The fit is impeccable. The color is impeccable. The pose is impeccable.
Win win win win win.
She looks simply incredible. Age appropriate but still incredibly fun and classy.
I'm not sure who she is but girl is rocking this dress.
The only thing I'd do differently is either make the dress slightly longer or pair it with a gold/shimmery shoe!
I hope she puts it right back when she gets home because it is not working.
Yes! This is incredible!
I think this outfit is amazing.
It fits, it flatters, it is simply stunning! This is something any age can rock.
Also, how great is the color??
This dress looks much better with her standing than it did with her sitting.
The fit is incredibly flattering on her. It's so fun and fresh I love the dress more the more I look at it.
I'm a little thrown off with the purple hair but I know she's contractually obligated to have it, so I can't say much about that. The poof is fierce, though!
I wish she wore the dress she had on during the red carpet pre-show. It was gorgeous.
Unlike this thing. I'm not a fan. The color is the best thing going for it.
The folds on the bust and lace coming out look like a bra. That's not red carpet fashion, that's boudoir.
The little ruffles are what I dislike the most, I think. If the bottom just flared out it wouldn't be as bad, but those little ruffles kill me.
Meh. The color is blah. It blends with her skin and hair. Nothing about her — or this — pops.
Well, except maybe her boobs because the top does not look like it properly fits.
She just had a baby and boy does she look incredible, but I think she could have done better.
She looks fantastic!
The dress is very flattering for her figure and her age.
She looks simply radiant!
This is a pretty dress but I feel like it's missing something.
A belt? Some color?
Something.
The fit of the dress is amazing but I think the overall look could be better.
This dress is great! She looks fantastic.
It looks better on TV and not against a red carpet.
The dress has a lot going on with all the small ruffles and sparkle, so I love she kept it simple with all and any accessories.
I'm not sold on her hairstyle but aside from that all else is great!
She looks absolutely fabulous!
I love the top of this dress. The bottom is a little iffy but I love the top so much I don't even care.
Accessories and hair are on. point.
Unfortunately "on point" does not describe Kate Mara's look.
The dress looks like it's very pretty.
But that awful, thick, plastic looking tan belt takes it down a lotta notches.
Get rid of the belt and she looks fantastic. Unfortunately someone told her otherwise.
STUN. NING.
WOW. I want this dress.
I like the shimmer of the dress. It looks great with her red hair and fair skin.
She had her boobs on full display which was a bit distracting. I think with a dress that has that much going on it would look better not-so-boobalicious.
Oh gosh.
What is she thinking?
The design on the fabric makes it look like it's a carpet. The upper fit is very good but the colors and the bottom are way too bad to even think that could save it.
Get. It. Girl.
Kathryn Heigl looks Uh-Mazing.
The color, the hair, the fit, the flair.
Yes. Yes. Yes.
I love that Melissa paid homage the the tux look she wore last week.
and it works for her!
This dress has me a little speechless.
Not the good speechless but not the bad. I'm just... unsure.
I kind of like it, but I kind of don't...
Uhm?
Wow, incredible!
No words needed!
People told her she looked good in this?
She actually walked past people who let her wear this out in public?
Like, she pays someone to dress her like this?
Please, pay to get your eyes checked.
Please, pay to get Karl Lagerfeld's eyes checked.
and Please, fire your stylist.
...
Her clutch is cute, though.
I'm looking forward to the day when J. Lo turns down the sex and steps up the class.
Yes, she looks absolutely INCREDIBLE. But she's become predictable. We expect her high slights and boobs hanging out. She could really wow us by stepping out on the carpet in something totally unexpected.
I also think her hair pulled back would have looked better.
She looks amazing.
The only thing I would change is her hair. Pull it back, or braid it. The dress is so busy (and amazing) the hair on her shoulders takes away from it.
Not a fan. Her bust looks tiny and her hips look huge.
The color is great.
I think she also needs something on the neck. The bare chest gives the illusion of a boyish figure, aiding to the allusion of tiny bust.
Uzo looks great!
I love the red that peeks through the dress. It looks so great against her skin tone.
I do wish her hair was pulled up but other than that she looks amazing!
Wow. Salma looks great!
The dress fits and is so incredibly stunning without being super sexy. You get a peek of cleavage without all the boobage.
The belt perfectly accentuates her tiny waist and works so well with the poof of the skirt.
Her dress is amazing but I'm not a fan of the flower in her hair. It's a bit... high school?
wearing Marchesa
The color of the dress is the best thing about it. It's nice but nothing special. It doesn't move me or evoke any emotion.
But that long pony does. It's really wigging me out.
I rate it: 6/20
wearing Carolina Herrera
Jenna looks great! The color is amazing on her (and super popular on this carpet!).
She kept everything simple which was a smart choice.
Like I've said before, I wish the dress was tailored a bit shorter so it wasn't wrinkling on the ground and instead was ethereally grazing the carpet.
I rate it: 8/10
Personally not my favorite Jen look. Someone on Twitter said she's bringing Rachel Green back and I completely agree.
The pieces individually could be something great but altogether the dress doesn't work for me.
Similar to Julia Louis-Dreyfus' dress, the cut gives Jen the illusion of saggy boobs and that's never cool.
Those shoes are hot, though!
I rate it: 7/10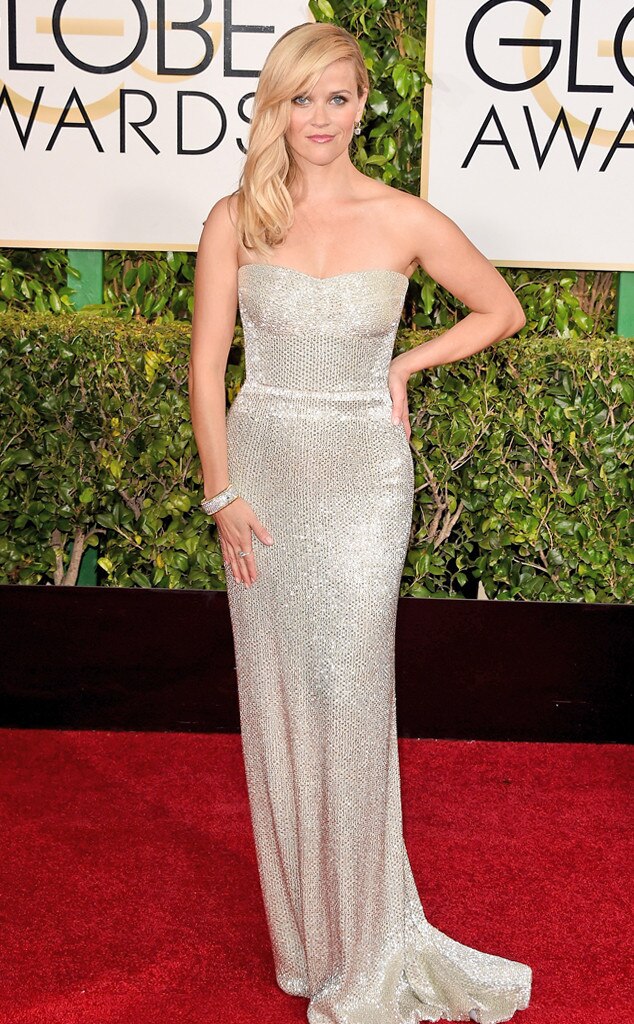 wearing Calvin Klein
Slaying.
Reese looks amazing. She knows how to work a red carpet.
This dress is so stunning on her.
I do wish she had done a pop of color on the lip. Something that, I think, would bring the whole look full fabulous circle.
I rate it: 9/10
wearing Donna Karan Atelier
Get it girl!
Viola looks fabulous!
There's nothing about this I don't love.
I rate it: 10/10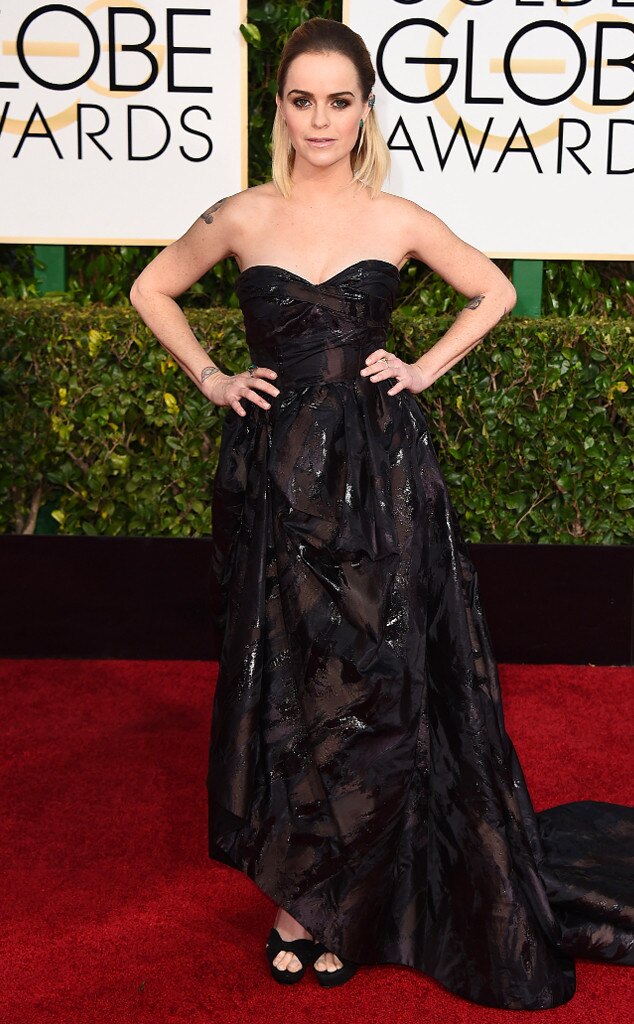 wearing Oscar de la Renta
I was surprised to see this was the only Oscar de la Renta dress worn on the carpet.
and I don't even know who this is!

On the E! Red Carpet pre-show, they discussed who would be wearing Oscar, since this is the first awards season since his passing, and no one they guessed was wearing it.
It's hard to appreciate this dress because of the dark background and the brown hair that turns blonde somewhere behind the ears?
I rate it: 7/10
wearing Monique Lhuillier
I like the back of this dress more than the front. The fabric flows down the back and looks very nice.
The color is great for Camila and her hair was spot on.
As mentioned, the back of the dress is what I liked the most. Camila is such a stunning woman I think she could have done better overall.
I rate it: 7/10
wearing Giambattista Valli Couture
Lupin never disappoints on the red carpet.
The dress is amazing, interesting, and fits her wonderfully.
There's not much else to say!
I rate it: 10/10
wearing Christian Dior
Felicity looks like Pageant Barbie.
The hair, the pose, the awkward bust bunching of the dress, the poofy bottom of the dress.
It's not working for me.
I adore the color and think it's fabulous but this is not working for me.
I rate it: 4/10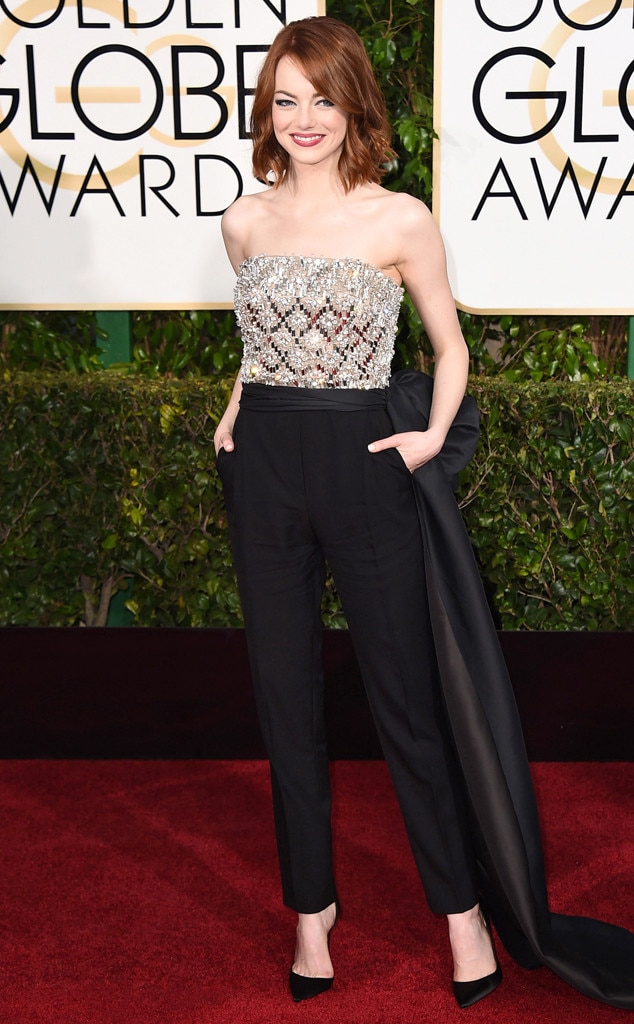 I don't think Emma Stone has ever disappointed on a red carpet.
I saw her in person at the
Spider-Man premiere
in London in 2012 and she's so freaking petite I'd accidentally break her if I hugged her.
Being that petite means she will look good in basically everything she wears and it's so true.
I love her style and the red carpet risks she makes. She knows what works and she's incredibly fashion forward.
I rate it: 10/10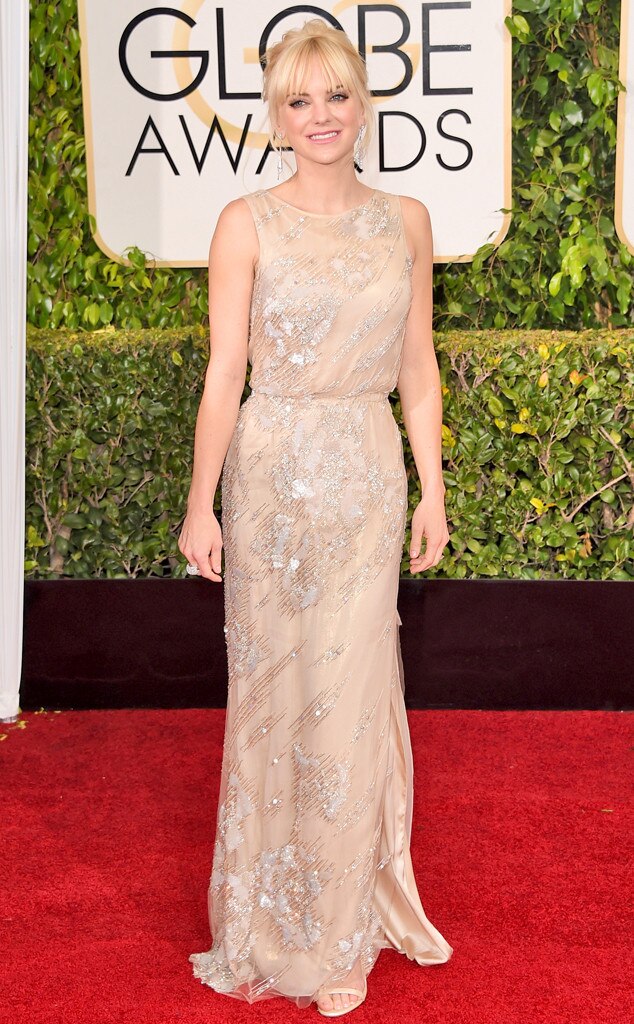 wearing Reem Acra
Anna looks amazing in this gown! The cinching at the waist is prefect for her petite frame!
As I've said for others, I wish there was a pop of color somewhere. She's so fair skinned and with such light blonde hair I think a darker lip or colored earrings would really make her pop.
I rate it: 9/10
I found this red carpet way more enjoyable than the
People's Choice Awards
. There was more color, lots of winning looks, and over all was so much better.
As awards season goes on, it's only going to get better and I can't wait.
But, no red carpet rundown is complete without a best and worst dressed, so who wins this one?
This was a difficult one. I gave a lot of dresses perfect stores.
But I have to go with Christine Baranski in Zac Posen. She worked that dress and I'm absolutely obsessed.
Hands down, no competition, Kiera Knightly in Chanel. What was she thinking?
The close ups from the E! Red Carpet were even worse. It was like a peasant dress was covered in bugs and brush.